"The Elements of Hip-Hop are embedded in everything I do and everything I am.  Graffiti, Breaking, MCing, DJing… I love it and embody it all," shared M E H S I.
Born in St. Bernardino, California and raised in Miami, Florida, M E H S I has effortlessly taken the Orlando music scene by storm. M E H S I  was raised bilingual influence by Caribbean Music like Salsa, Merengue, Bachata because of his Cuban Heritage.
"I truly believe this has influenced my instinctive rhythm;  It's in my blood.  Also, being bilingual really helps me in my lyrical delivery.  I'm Loose with the tongue and more open to vowel and consonant word plays, " explained M E H S I .
M E H S I  started by writing poems and verses before learning how to form them into songs in 2009. He is influenced by Big Daddy Kane, Slick Rick, Nas, Biggie, Jay-Z, Eminem, Black thought , Mos Def, Talib Kweli, Immortal Technique, and many others.
"As far as influences go, I'm a 90's baby. I love that MPC2000 analog sound with samples and in-the-pocket lyricism that paints pictures, empowers, and teaches those who listen," chimed M E H S I.
His flow comes to listeners as confessions of a starving artist not trying to sell out, but give Hip Hop honest feed back on what is needed to change the game. 
"M E H S I is my Graffiti Tag in reverse "ISHEM" which actually comes from my first name Ishmel. M E H S I has a much deeper meaning to it too. Evolving from "Messy" to "M E H S I" is a self – evolution we can all take that I express through my music. The Slogans #GetMehsi and #HEARtoCleanUptheMEHS relate to cleaning/cleansing the clutter in our hearts, souls, minds, past, community, etc. #GetMehsi is a way of getting our hands dirty and actually working to clean up the mess in our own lives. I have done this myself, and now, I share what I have learned and continue to learn with those around me, " he shared.
His voice is unique, but still reminiscent of high pitched artists like Q-Tip and Eminem. He never lacks the audacity to grab an open microphone and bring forth an uplifting, tenacious performance. His words cut like a double-edge sword bringing truth and knowledge.
"The craziest part was how many people had actually gone through similar hardships and thanked me for being open about how I handled those situations. I started to notice I have a blessing of being able to help people get through tough times. My Music helps me reach more in need, simultaneously it's helping me grow as a person as well. Now I listen back to my songs, and I even learn more about myself, " he expressed.
Rocking stages at events like Stage Wars, Swamburger Presents: The Fat Gold Chain Chronicles, The Scene, Bengali 600, and even at Quality Control, He has proved himself time and time again to provide an influence on the Orlando Hip Hop community, as he regularly attends Austin's Coffee & Film Open Mic on Mondays.
"This is more than a genre man.  This is a way of life.  My shoes are Hip-Hop.  My dialect is Hip-Hop.  My Choices are Hip-Hop. I AM Hip-Hop in all it's entirety as it is me.  It's so much bigger than I am.  I'm just grateful to have found such a beautiful culture in this lifetime.  I respect it and pay homage to it's history and creators," stated M E H S I.
Affiliated with Setgang South, Homegrown Battle Ground, and Dynasty Zulu's of Orlandoand Surrounding Areas, He has a huge network and support team.
His battle rap team just won their battles in Connecticut and will be posted on YouTubesoon. He has a battle lined up with Baesik on Sept 19th at Unberrable Mayhem which is going to be the biggest event in Florida this entire year. He will also be entering the 2 on 2 contest for Grind Time Now in November as well.
He is currently working on a new EP and already writing for his first official album.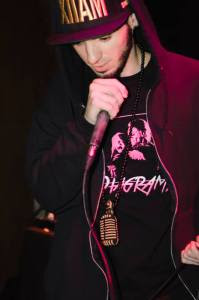 "There's a lot in the works for me. I'm just extremely happy to give back all the energy this city has given me and then some. My goals for the future involve exactly what I'm doing now on a much larger scale, helping thousands of more people, making music that's timeless and bringing us all together whenever I can.  The way I plan to do that is all part of the journey.  #GetMehsi #StayMehsi This is only the beginning," shared M E H S I.
Keep up with all things M E H S I with the links below.

Instagram – @MehsiMusic
Twitter – @MehsiMusic
FB – /MehsiMusic 
www.reverbnation.com/mehsimusic